TOM GRUZO Jazz Pianist / Composer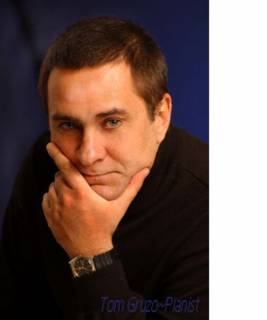 Tel (310) 310-465-5538
e-mail: tgruzo@hotmail.com
Musical styles:
Jazz
Influences:
Bill Evans
Horace Silver
Bud Powell
Monk
Editorial Review:
"Within commonly understood motions of melody, harmony and metre, Gruzo both
composes and plays music that conveys a feeling of free movement matched with
a sense of direction. Roots, discipline and imagination are beautifully balanced."
Ottawa Citizen, 21 July 1989
Instruments:
Piano
Hammond B-3
Vibraphone double bass
Career Highlights:
1990/2005 -Gigs with Clifford Jordan, Sam Most, Bobby Shew, Harvey Mason and Albert "Tootie" Heath with his regular trio: bassist Clarence Robinson and drummer Giovanni Nickens
1991 - Arranged main music theme for Cable TV special
1989 - Appeared on ABC News, Entertainment segment following the release of the album Say When.
1983 - Performed with Louis Petrucciani (bass) in "The Lighthouse" in Hermosa Beach, CA.
1979 - Concert tour of Germany with his trio. Visited seven cities performing in jazz clubs.
Education:
1977-80 Warsaw Polytechnic Institute, Acoustics 1980, Electronics Department
1975-80 Studied Piano with Prof. Hanicz, Warsaw Music Academy
1978 Studied Piano and Jazz Arrangements with Jack Veiss
1977 Studied Composition and Music Theory with Jack Veiss
Recordings:
Standards Vol. IV (TGP 7014) with C. Robinson and G. Nickens
Standards Vol.III (TGP 7013) with C.Robinson and G. Nickens.
Say When(TGP 7007) with A. Heath, L.Spears, B.Shew, S.Most and H.Riley.
Additional abilities:
Music copyist, arranger for trios and quartets.
Audio Samples: